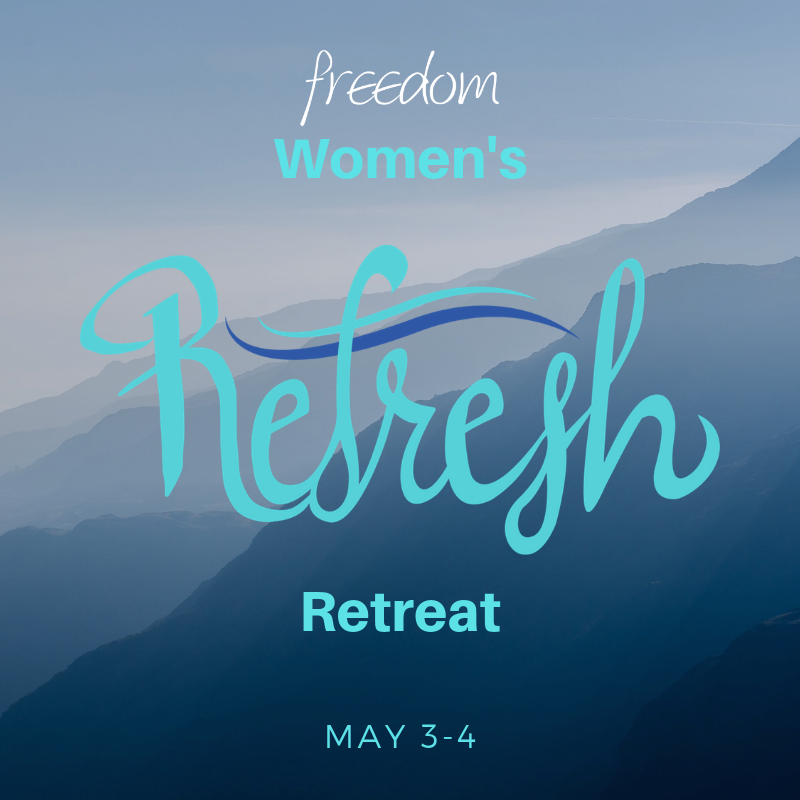 Friday, May 03, 2019 - Saturday, May 04, 2019
You're invited to attend the Freedom Church Women's REFRESH Retreat at The Lodge in Christiana, TN Friday May 3rd & Saturday May 4th. This is going to be a time of refreshing and connecting with other women! We can't wait!
What: Women's REFRESH Retreat
Who: Women ages 18 and up
When: From Friday May 3rd at 12p CST/1p EST through Saturday May 4th at 4p CST/5p EST
Where: The Lodge, 8990 Manchester Pike, Christiana TN 37037 (Link to a video about The Lodge: https://vimeo.com/218458393)
Maximum of 40 ladies can attend. If you are not one of the first 40 ladies to sign up, you will be notified and placed on the waiting list in case a spot opens up.
Cost/Food:
$75 for a bed

$65 for a rollaway

$50 for air mattress or futon (bring a Queen or twin air mattress and bedding)

Cost includes four meals at the lodge (lunch and dinner on Friday, and breakfast and lunch on Saturday)
Beds:
There are 4 king beds (2 per bed), 6 rollaways and a futon (2 people). Everyone else will need to sleep on an air mattress. If you sign up for an air mattress, you will need to bring a queen or twin air mattress as well as bedding (pillow, sheets, blankets). Beds, rollaways and futon are first come/first serve basis.
Deposit:
Pay 1/2 the cost ($38/bed, $33/rollaway or $25/air mattress/futon) by SUNDAY, APRIL 14 to secure your spot. Pay by cash or check to Freedom Church Chattanooga. Give your deposit to a Next Steps Freedom Team Member at the Connect Center in the front lobby at Freedom Church on Sunday mornings or to Nicole Delaney, Administrative Assistant, on Monday, Wednesday or Thursday at Freedom Church 9 a.m. to 3 p.m.
Transportation:
The church van fits 13 people (first come/first serve). $5 per person for gas. You can also carpool and drive or ride with others ($5 per person to the driver for gas).
The Lodge in Christiana, TN